More to meat; at Steak Club Leidse you can have it all! Extensive lunches, cozy drinks, delightful dinners and amazing nights out. We excel in grilling crazy delicious dishes. Not just meat, we also serve fish and offer vegan choices. And there is more; we serve you the best cocktails you can imagine and on weekends we assure that at Steak Club Leidse you will dance the night away. Our place at Leidseplein is about bringing people together, meeting new friends and experiencing a complete night out.
We turn on the heat, starting in the kitchen. Visit Steak Club Leidse in the centre of Amsterdam for the best grilled meat and for the amazing vibes. When you enter our restaurant, the selected dry aged meat takes stage in a special fridge. What's more? You'll find fantastic burgers, delicious salads and amazing sea bass on the menu. Whatever stimulates your taste buds! All our dishes are selected and created with care by our Chef Vincent. 
Our trendy restaurant is located behind Leidseplein and is the place to be for every occasion. It is spacious, but thanks to all the different spots within the interior it still remains cozy. This creates a special vibe. The restaurant is therefore perfect for both an intimate date, as well as for groups getting together. The possibilities are endless. Visit Steak Club Leidse for the experience and you will leave with new memories.
Every detail in the interior reflects the ambiance of our restaurant. It's colorful, warm and classy with an edgy touch. We will make you feel special in every way possible. Our team is ready to complete the full experience at Steak Club Leidse.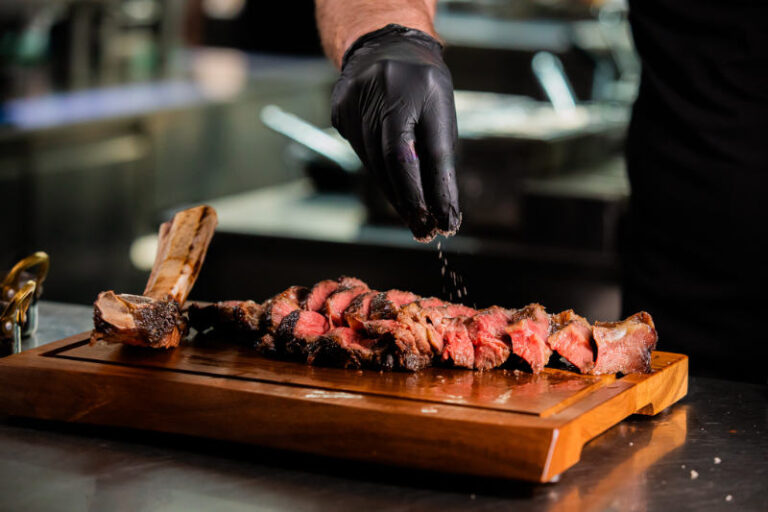 Ready for some daytime drinking, evening cocktails or refreshing beverages? From an amazing strawberry mojito to a special chocolate version of an Espresso Martini; we've got you covered.
The bar is the center of our restaurant. Everything comes together at the bar. No matter if you start your evening at the bar or end your night there, you will enjoy it to the fullest.
At the bar we serve you our exquisite cocktails & funky tunes; all you need. Invite your friends, take a seat at the bar, and enjoy a marvelous time at Steak Club Leidse.
Music, cocktails and amazing vibes. Dare to show off your best dance moves? After having a fantastic dinner, the party continues at Steak Club Leidse on the dance floor. So let's go! On Fridays and Saturdays the party is on. Whoop whoop! Expect bottle service, funky tunes and fun people getting together creating an exclusive vibe. Are you in? It will get hot in here! Dance with us on Friday and Saturday from 22:00 till 03:00.
Had a delicious meal with my daughter. Lady steak chimichurri (+ fries) and sea bass (+risotto), delicious dessert TripleCholate. Lovely friendly staff & good service. To be repeated !
I really like the fact that the restaurant turns into a club/bar after having dinner The staff were super friendly and the food lovely I will definitely come back!
Good vibes only✨ Beautiful location, nicely decorated. Nice staff...delicious food and tasty cocktails. Worth repeating! Next time on a Saturday night with DJ